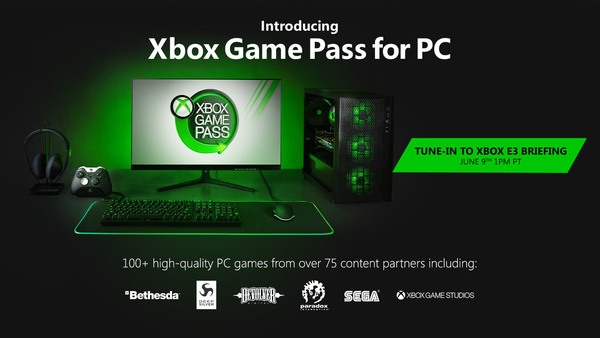 Microsoft has revealed that it intends to release the console gaming subscription service to PC as well. At this point we don't have a lot of details about the upcoming extension to PC games, but fortunately E3 is just around the corner.
Microsoft is promising more information at E3 which starts in less that two weeks. At this point we know that Xbox Game Pass will bring over 100 games from 75 different developers, which unsurprisingly includes few Microsoft-owned studios.

The third-party contributors includes giants like Bethesda and Sega but also lesser known studios like Deep Silver and Devolver Digital. Deep Silver is a German game publisher known for games like Metro Exodus and upcoming Shenmue III.

Devolver Digital on the other hand has recently worked with more mobile gaming, like Reigns: Game of Thrones and other Nintendo Switch titles.

In addition to over 100 free games, Xbox Game Pass subscribers get a 20 percent discount on other games in the Microsoft Store.



For further information about things like pricing and compatibility with Xbox Game Pass on console, we'll have to wait until E3.

One thing that isn't only related to the Game Pass, but in Microsoft Store in general. Microsoft has confirmed that the store will soon support native Win32 software. This means that game developers can submit the exact same file on Microsoft's store as they do on say Steam or other competitors.

Microsoft will of course continue to support their own Universal Windows Platform (UPW) API but it is no longer required.