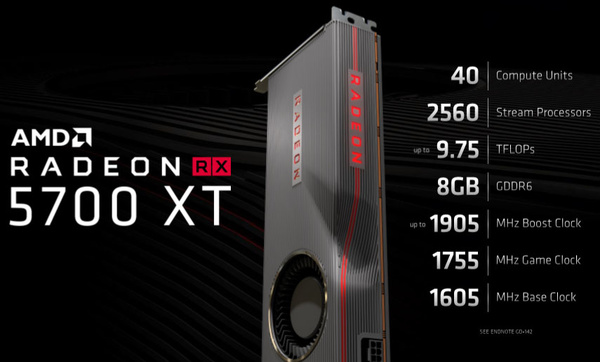 AMD had their E3 press event yesterday where they revealed finally the upcoming GPUs based on the new Navi architecture.
They company had already initially revealed the new generation of GPUs at Computex, but this time around we got some dearly needed details.

AMD's newly announced Radeon RX 5700 XT and Radeon RX 5700 are the new champs that challenge Nvidia's midrange RTX series cards. RX 5700 is aiming to challenge the RTX 2060 with a compelling $379 price tag.

The XT version is going to perhaps challenge the RTX 2070 with a bit pricier $449.

Both will be available from July 7 onwards.

AMD told us that RX 5700 XT features 40 compute units and 2560 stream processors that produce up to 9.75 teraflops, and 8 gigabytes of GDDR6 memory that can reach up to 1905 MHz boost clock speed (and 1605 MHz base clock).

The cheaper RX 5700 has 36 compute units, 2304 stream processors with up to 7.95 teraflops, and same 8 gigs of GGDR6 with a lower 1725 MHz boost clock (and 1465 MHz base clock).



If you are wondering whether the new Navi cards support ray tracing like their Nvidia counterparts, that is a definite no, and it's likely that they'll wait until the next generation to properly implement it. Even then the full scene ray tracing is going to be a cloud solution.

However, there is hardware support for FidelityFX, essentially a hardware version of Radeon Image Sharpening, which will make your games sharper in the more challenging spots, like the surface of a racetrack in a simulator.