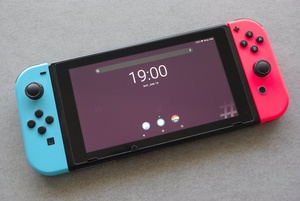 The first publicly available Android ROM for Nintendo Switch has been released by developers at XDA.
The unofficial firmware is based on LineageOS 15.1 (Android 8.1 Oreo) and works with compatible Switch models only. For this to work, you would need to be able to boot into hekate, which newer Switch models probably won't be. Since the firmware is based Nvidia Shield TV trees, Tegra-exclusives like Borderlands and Half Life 2 should run.
Given it is the first release, there are some known and significant bugs of course. Battery life is not great due to a deep sleep issue. Auto-rotation isn't working since the developers haven't figured out how to "talk" to the sensor yet. The console charges but the charging itself isn't detected. Some apps cannot take input from the Joy-cons yet and so on.
There is a full list of features and bugs on the dedicated thread at
XDA-Developers
. It also walks you through the process of installing the custom ROM on your SD card and running it on the Switch. Additionally, there is a helpful Q&A and a changelog that you should keep an eye on.
Source (+Pic):
XDA-Developers
via:
Engadget