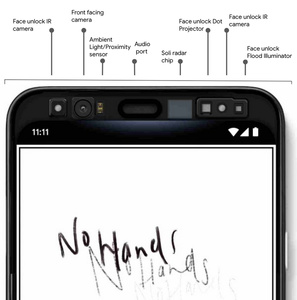 Google has decided this year to take a page from OnePlus' book of revealing new products. The search giant is giving away small tidbits of information about their upcoming flagship phones along the way to the actual unveiling.
We've previously seen some teaser pictures, and now they've released a video, and a blog post, that shows some of Pixel 4's new features.
More specifically the upcoming phones will have a feature called Face Unlock, which is essentially a copy of Apple's Face ID. Not only is it a unlocking mechanism which uses facial recognition, but it also uses similar array of sensors as Apple's biometric feature.
In addition, Google is set to add a new motion-sensing radar function to Pixel 4 phones. With the radar, users can interact with the phone without touching it. Motion Sense feature allows gesture-based controls for example to mute the device or skip a song.
More about the Motion Sense feature as well as the new Face Unlock cameras are revealed in a recent post on the
official Google blog
.