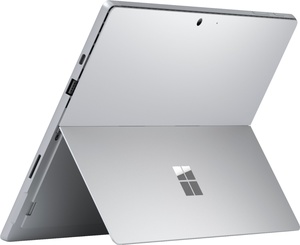 Microsoft is preparing a Surface event for tomorrow, and they've gotten away without leaking their devices all the way til today.
Unfortunately for the company, and perhaps luckily for us,
The Verge
in association with the famed leaker Evan Blass have released some photos of the upcoming devices ahead of the launch event.
The pictured devices include the likes of Surface Pro 7, Surface Laptop in two sizes (13" and 15") as well as a yet unnamed new ARM based 2-in-1 device.
The pictures don't really reveal anything out of ordinary. For example, there is no Surface device with two displays present. Nor is there any folding displays.
Also, there are no specs revealed but we do get to see some of the features of the devices in the pictures. The new 2-in-1 device has at least two USB-C ports, camera in the back, and a vertical kickstand. It also supports stylus input.
The Surface Laptop's design seems fairly conservative, and perhaps reminds a little bit like a touch screen version of MacBook Air.
We can also confirm that Surface Pro 7 will still have the same USB-A and USB-C ports on the right side and same docking ports and pins.
All the devices seem to use a magnetic charging ports, although probably also support USB-C charging.
You can go check the photos
here
.