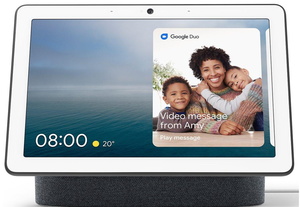 Many homes now have multiple media and entertainment devices spread throughout, and Google wants to make it easy to switch the device you are listening to music or watching YouTube videos on.
With updates rolling out, users of Google Home products like Chromecast, Google Home Mini, Nest Hub Max, and others will be able to easily switch music, podcasts, and YouTube videos around devices. That can be achieved either by speaking out voice commands, using the Google Home app on a smartphone, or a touchscreen on a Nest smart display.

If music playing on a device in the kitchen like the Google Home Mini, a voice command of "Hey Google, move the music to the living room speaker" will transfer the stream to the living room device.

Alternatively, if using the Google Home app, one has to tap the cast button to see all the devices in the home, and then choose one to move the streaming audio to.

YouTube videos are also supported for quick switching. Either a voice command or the cast control on the screen of the Nest Hub Max can move YouTube videos to a Chromecast-connected TV. If you have more than one Google Home and Nest smart speaker or display, you can set up a speaker group in the Home App.



Stream transfer is compatible with popular apps like YouTube Music, Spotify, Pandora, and others.