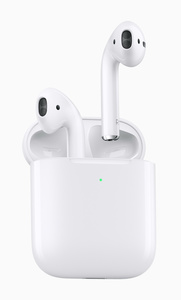 Apple's AirPads blew the wireless headphone market completely open. Truly wireless earbuds are now everywhere, and every single electronics manufacturer seems to have caught on.
Partly this is of course because of the lack of headphone jacks in our smartphones – a trend also from Apple's playbook. Whether you have a headphone jack available or not, the Bluetooth powered earbuds are convenient and they offer pretty much everything a regular pair of headphones would.
However, AirPods haven't yet managed to include quite everything under their tiny footprint. The one big omission is noise cancellation. This feature is found in some higher end wireless earbuds, including Sony's new WH-1000XM3 model.
Rumors have it that Apple fans won't have to wait long for the feature either. According to
China Economic Daily
, Apple is working on new AirPods Pro, which, among other adjustments, will include noise cancellation. This isn't the first case we've heard of noise-cancelling AirPods, either.
It would also suggest that Apple is likely to redo the ergonomics, since noise cancellation requires a tighter fit than what traditional AirPods offer.
Active noise cancellation, or ANC, produces white noise that cancels out the ambient noise. In the best of cases it can remove almost all noise even loud situations like on an airplane.
A tighter fit probably will improve upon the sound quality too as it won't be mixed with outside noise as much. It is also very possible that Apple will include a pass-through when users want to hear ambient noise.