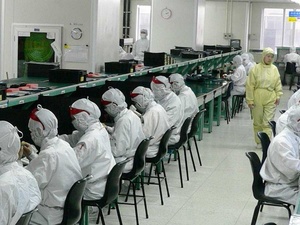 World's leading contract manufacturer Foxconn has been struggling to keep up with production during the past few months. Factories in China have mostly returned to business as usual, but demand is still a problem.
Foxconn's profits are undoubtedly going to sink, after all they did that already last year, after a global crisis due to COVID-19. Apple is among the largest customers, and iPhone demand determines much of the profits both Apple and Foxconn can make.
An economic downturn affects nearly every industry in the same fashion. When people don't have excess money, a thousand dollar smartphone is much harder sell.
Apple has made up to 18 percent less orders to Foxconn in early 2020 compared to last year,
Reuters reports
. The sources also claim that Apple might be slowing down the production of upcoming 5G capable iPhone, although release could still be on schedule.
The demand for new iPhones is currently not there, and apparently Apple estimates that it won't be still there in time for the new iPhone, due in September.
COVID-19 is still running rampant in most of the world, and in many places still going to ramp up. It is unclear how long the economic woes will shrink the demand.