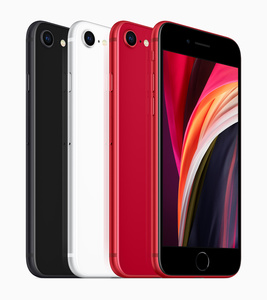 Apple has just revealed their newest member of the iPhone family. The most affordable iPhone has been revamped for 2020, here's the new iPhone SE.
The new device, once again called iPhone SE, has improvements over the predecessor in almost every aspect. Apple has updated the CPU to their last year's A13 Bionic that runs iPhone 11 series phones.
This will bring the computational prowess to a completely new realm, when the predecessor sports A9 that is four generations behind. According to Apple, the 12 MP single camera system is the best single camera system on any iPhone.
This means that it should be better than iPhone 8, which probably rings true if it uses the main camera from last year's flagship.
Speaking of iPhone 8, the design now resembles that of those iPhone with rounder edges, and offers IP67 water and dust resistance. Like them, it also has a Touch ID fingerprint sensor rather than Face ID.
This means that display is still not without massive chin and forehead. However, display has been improved too. It's now a 4.7 inch Retina HD display with support for Dolby Vision and HDR10.
Battery-wise, there's no Qi wireless charging like the flagships, and fast wired charging provides up to 50 percent charge in 30 minutes.
Prices start at $399 (64GB) and climb to $449 for 128GB and $549 for 256GB versions. Color options are white, black and PRODUCT RED, and sales start on April 24 with pre-orders available day after tomorrow on April 17.