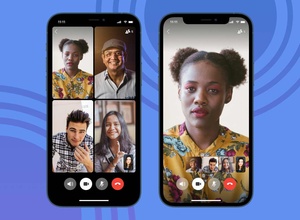 Signal has expanded its end-to-end encrypted communications to include video group calls.
The COVID-19 pandemic has forced the world to embrace video conferencing software for everything from school classrooms to corporate meetings.

Earlier in the year, Zoom came under fire after it was found its video was not subject to end-to-end encryption as had been claimed. There were also other security concerns that hit the service, which grew significantly during the pandemic.

Now, encrypted messaging app Signal has added group video chats to its line-up and like everything else it offers, it benefits from end-to-end encryption.

"Today, we're launching group calls in Signal with the latest versions of our apps. Group calls are free, private, and end-to-end encrypted," Signal's announcement reads.

A video call button will now be added to the top of group chats. When you start or join a group call, Signal will display the participants in a grid view. You can also swipe up to switch to a view that automatically focuses the screen on who is speaking, and it will update in real-time as the active speaker changes.



Free group calls are available starting today as long as the Signal app has been updated to the latest version. You won't see the call button in your legacy groups, but your legacy Signal groups will start automatically updating to New Groups in the coming weeks.

Currently, group video chats are limited to five participants but this will be improved soon.