Spotify crashed globally about ten minutes ago. Problem is widespread and neither paying customers or those using free version can't access the streaming service.
Social media is flooded with reports about Spotify going down and quick look at the
DownDetector
site that monitors various web and online services confirms the problem.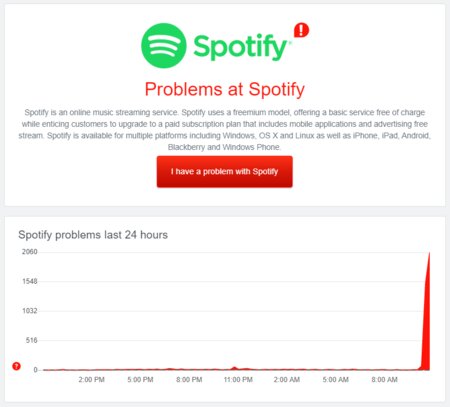 Tons of tweets about the problem sparked immediately:
everyone running to twitter to check if spotify is working or not #spotifydown pic.twitter.com/Z5OJ9WaWRU

-- david ❀ | restriction (@ntltcap) December 16, 2020
Spotify scheint den harten Lockdown recht ernst zu nehmen. #spotifydown

-- Daniel Schöberl (@danielschoeberl) December 16, 2020
The other day was #googledown, now its #spotifydown. Wonderful! pic.twitter.com/xUO57bNOOv

-- Giorgia Bosello (@giorgiabosello) December 16, 2020