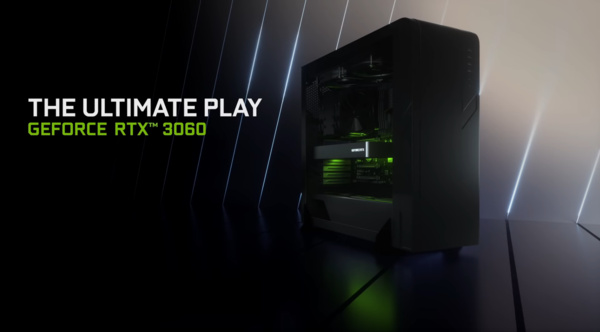 Nvidia has announced their newest addition to their RTX graphics card lineup at the virtual CES that runs this week. The most budget friendly of the new 3000 series cards will be available late next month.
The new 3060 fills the gap that Nvidia left last month when they announced RTX 3060 Ti. Now with the regular 3060, they've got a fairly affordable new generation card, that a lot of people have been waiting for.
GeForce RTX 3060 features 12 GB of GDDR6 memory, 3584 CUDA cores, 192-bit memory interface, and a clock of speed of 1.32 GHz (boost at 1.78 GHz). Nvidia recommends a 550 watt PSU for the GPU that uses up to around 170 watts.
Nvidia compared the new card to the latest GTX predecessors, the GTX 1060, and specifically their ray tracing capabilities. A rather odd comparison, considering that it has been well established that ray tracing is pretty much the one trick the new RTX cards have to offer.
Nonetheless, the new RTX 3060 can provide up to 10 times the ray tracing performance to GTX 1060. Nvidia also promised 60 fps, ray tracing enabled, in new games.
As mentioned, RTX 3060 will be available late February, although expect stock to be limited, starting at $329.
More information about RTX 3060 can be found
here
.