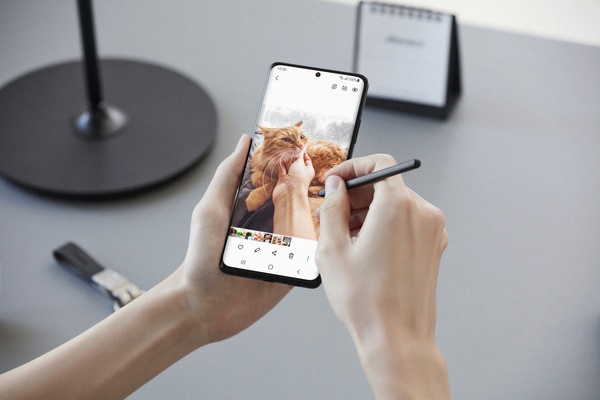 Samsung announced today three new Samsung Galaxy S21 models as expected. At the first Unpacked event of the year Samsung introduced Galaxy S21, Galaxy S21+, and Galaxy S21 Ultra.
The lineup hasn't really changed from last year in terms of the trio of devices hitting different price points and specs preferences but there are some important upgrades to the last year's models.
All the new Galaxy S21 models have a new and improved display panels that offer better peak brightness and now also 120 hz refresh rate at maximum resolution.
The S21 and S21+ feature a Full HD+ display and Ultra has a QHD+ panel. All of them feature a more durable Gorilla Glass Victus on top of the panels. Peak brightness hits 1300 nits on S21 and S21+, and 1500 nits on Ultra.
As you might guess, there are some size differences. S21 display is 6.2" while S21+ is 6.7" and Ultra 6.8", which means that S21 and S21+ display size stayed the same while Ultra got tiny bit smaller from last year, although it does now support S Pen.
Samsung Galaxy S21 Ultra and S Pen
However, all of the models got a larger, 1.7x to be exact, fingerprint sensor underneath the display.
The S21 is the only model to rely on polycarbonates in construction. The other two have a glass and metal build. All of them have IP68 waterproofing.
Battery size varies from 4000 mAh of S21 and 4800 mAh of S21+ up to 5000mAh of Ultra. To improve battery life, Samsung has also implemented a variable refresh rate that automatically adjust the display from 10hz all the way to 120hz depending on the need.
SoC has been upgraded to 5 nanometer chips, Exynos 2100 or Snapdragon 888 (US), depending on the market. As for the storage and RAM options here's what you've got:


Samsung Galaxy S21: 8/128GB, 8/256GB


Samsung Galaxy S21+: 8/128GB, 8/256GB


Samsung Galaxy S21 Ultra: 12/128GB, 12/256GB, 16/512GB


Unfortunately there is no microSD slot anymore, so you'll have to do with what you've got in terms of storage.
In terms of camera, the setup changes quite a bit between the S21/S21+ and the Ultra, quite like last year. The former two have a triple camera setup including a 12 MP regular shooter (f/1.8, OIS), a 12 MP ultrawide with 120 degree view, and a 64 MP telephoto with 3x hybrid zoom.
Samsung Galaxy S21 Ultra camera setup
Ultra on the other hand replaces the default shooter with a 108 MP (f/1.8, OIS) camera and adds another 10x telephoto to go with the ultrawide and 3x telephoto.
In terms of selfie cameras, the first two have a 10 MP camera and Ultra features a whopping 40 MP selfie shooter.
Pre-orders have started today and the sales start officially on the 29th of this month. The prices start at $799 (S21), $999 (S21+) and $1199 (S21 Ultra).
Samsung Galaxy S21
Samsung Galaxy S21+