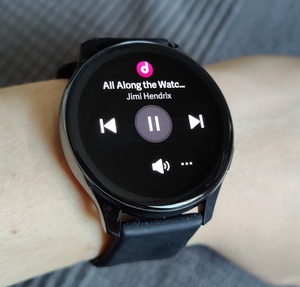 Modestly priced, awesome battery life, and from a brand known for its quality products! What could go wrong? This is exactly what many of us thought when
OnePlus
finally decided to launch its own smartwatch, aptly named
OnePlus Watch
.
We got the OnePlus Watch for review just before its official launch date and were pretty excited to see it in action.
Unfortunately, this time around, the expectations were not met. For us, the OnePlus Watch is a prime example of a product that doesn't have a focus and was simply launched because everybody else had one.
Tech specifications
| | |
| --- | --- |
| Weight | 45 grams (without the wrist wrap) |
| Size | 46.4 mm (circular), 10.9 mm (thickness) |
| Build | Stainless steel or Cobolt alloy (special edition) |
| Display | 1.39" 454 x 454 pixels, AMOLED |
| Battery | 402 mAh (manufacturer states battery life up to 14 days) |
| Internal storage | 4 GB |
| Other | Requires Android phone with Android 6.0+ ; IP68 ; suitable for swimming ; integrated GPS |
| Price | $159 / €159 |
Design

OnePlus Watch is being sold in two editions: the standard black edition and a special cobalt-colored edition. The one we got for us to review is the standard black edition of the watch. You could call the watch's design as simplistic - but I'd call it just plain boring.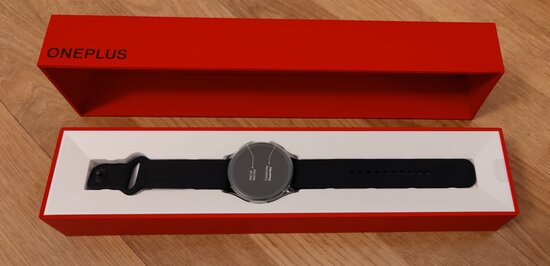 As I struggled to put on the watch, I had to wonder: why in the world would the engineers decide that the century-old, tried and tested method was outdated and decided to replace that method with something that is extremely cumbersome. Sure, with a smartwatch the idea is that it is very tightly placed to your wrist in order to measure your heartbeat and other physical measurements. However, due to the annoying wrist strap, I hated taking it off and putting it back on.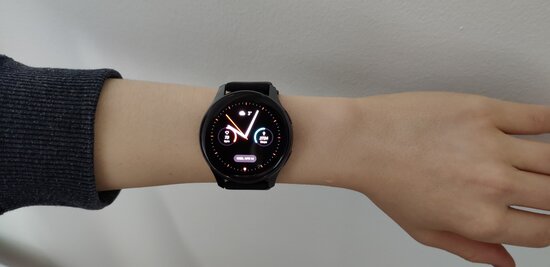 For reasons unknown to us, OnePlus has decided that one size surely fits all. The watch has exactly one size option and it is enormous. OnePlus Watch is one of the largest smartwatches out there. Sure, it is just a matter of millimeters, but with a watch those millimeters are quite important to the aesthetics and feel of the product.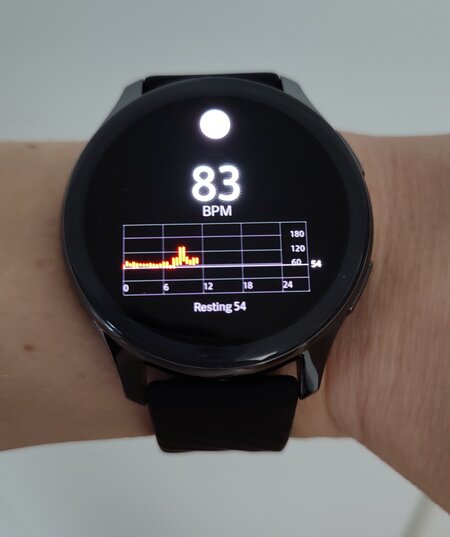 Speaking for myself, I'm from the land of the giant Vikings, but an oddity here - a short guy with a slim body type, and for me the OnePlus Watch was simply too big. Sure, I could still adjust it to my wrist, with the last hook of the wrist strap in use. But for small women or guys smaller than me, the watch is simply too big.
My teenage son tried the watch on and as you can see in the picture above, the watch had to be adjusted quite close to the elbow in order to be snug enough for the heartbeat sensor to work properly. Not an ideal placement for a watch, I'd say.
So, if you're something like 6 feet / 180 cm tall and have a bulky structure, the watch might be just fine. For everybody else, it is just too big.
Display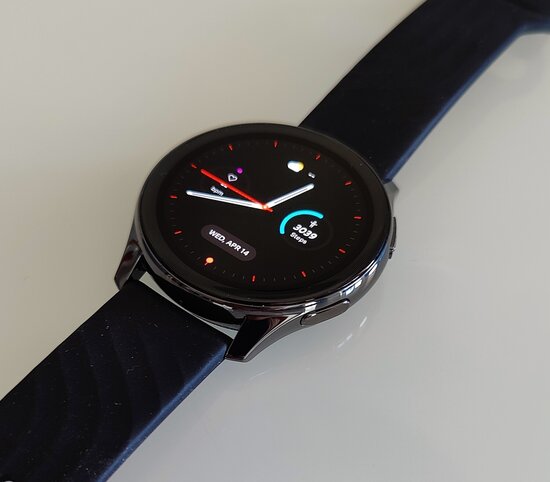 The pretty massive 1.39" display is covered with curved sapphire glass. The 454 x 454 resolution AMOLED display is actually pretty awesome. It is so bright that watch can be easily used outside on sunny days.
Also, the touch screen of the display is smooth and very responsive but doesn't give you accidental taps, even with a slightly curved display. So, in this area, OnePlus Watch is one of the better smartwatches we've tested.
While I complained about the size of the watch, the other side of that is obvious: the display is also big, as OnePlus has managed to keep the bezels very, very thin.
Battery life
OnePlus took a massive risk with its OnePlus Watch and decided to build its own operating system for the device rather than adopting Google's Wear OS or another existing smartwatch operating system. OnePlus reasoned this decision with increased battery life. Their marketing claims "up to two weeks" of battery life for the watch. Surely, the actual tech specifications play it down slightly, stating that the battery should last for "one week, even two".
Our test period didn't last two weeks, so we couldn't verify the claim fully. However, based on our several days of testing, the claim actually might have some truth in it. We'd estimate that with our usage, the built-in 402 mAh battery should last for 8 to 10 days.
For a smartwatch to have a battery life of more than a week
is
an impressive achievement, absolutely.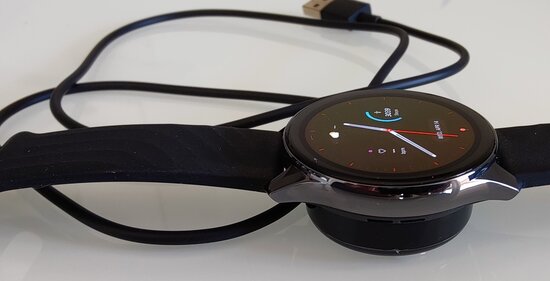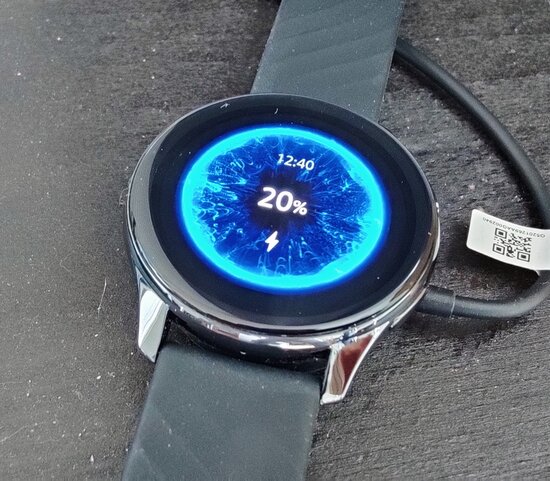 Obviously, to honor the OnePlus tradition, the watch is very, very fast to charge, too. Just 20 minutes of charging should get the battery to more than 50 percent capacity.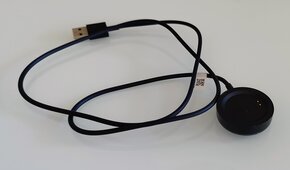 The charger itself is elegantly designed and easy to use. It is just a magnetic cup that snaps the watch inside it for charging. It should be noted though that the watch doesn't ship with the outlet charger, but just the charger cable for the watch that you need to hook up to your existing power adapter.
OnePlus Watch UI
The watch's own user interface is very clear and easy to navigate: all functions are in logical places and nothing is hidden underneath piles of menus like in some other smartwatches. As a handy bonus, the other physical button of the device can be programmed to perform the task you most commonly need to access.
OnePlus Watch was actually a pleasure to use as the operating system was very snappy and the user interface was logically designed. Here I can understand why OnePlus decided to build its own operating system for the watch.
Features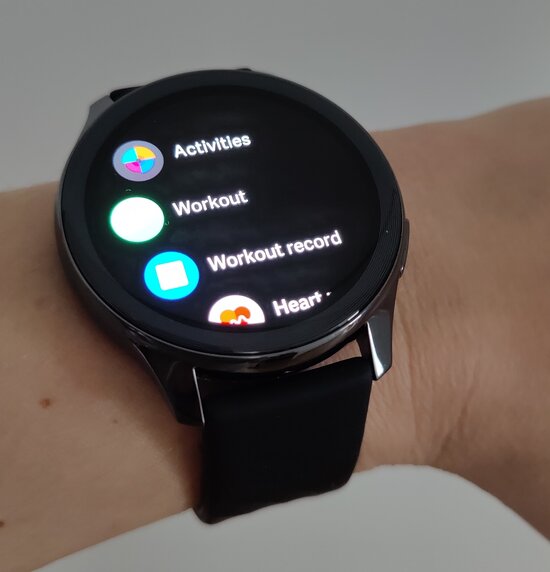 As for the features, OnePlus Watch has all the standard features you'd expect to have in any smartwatch, sports watch, or even sports bracelet. It can measure your heart rate, analyze your sleep, track your daily steps, etc.
Most of the measurement features are on by default, as they should be. None of the features present in the OnePlus Watch make it stand out from its competitors, but then again, it doesn't really lack any of the basic features either. Almost all the features found in OnePlus Watch are the features found in $30 bracelets and $500 sports watches, too.
There's one nice addition, however. For the runners among us OnePlus Watch has an integrated GPS. Having an integrated GPS makes it stand out from many of the other cheaper smartwatches. With the device's own GPS, you can leave your phone at home when you decide to do your morning run and still get the exercise tracked properly.
OnePlus Watch and running
Sure, I had to test how well the Watch works as a sports tracking device. I decided to do two separate 5 kilometer runs on separate days. Both runs I tracked with OnePlus Watch, but also with a chest strap heart-rate monitor, in order to get comparable data.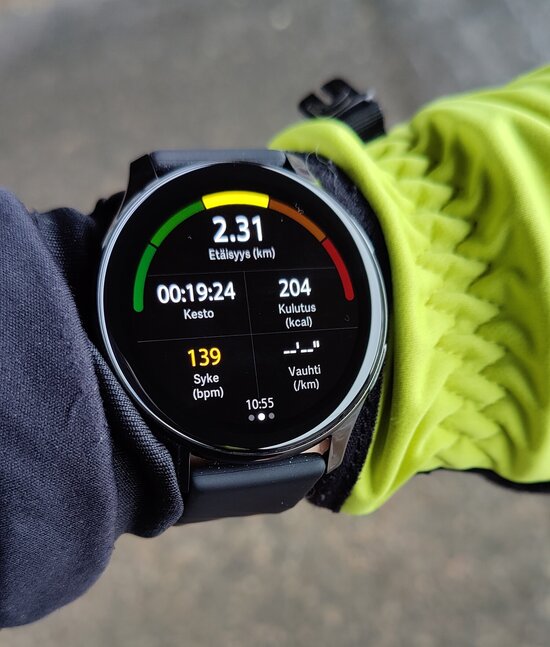 I was curious to see how well OnePlus Watch could track my BPM. It is a quite well-known fact that wrist-based heartbeat monitoring isn't as accurate as chest strap monitors. Furthermore, I also have this interesting
(but harmless!)
heart condition that causes my BPM to occasionally spike every now and then. This results in quite interesting data to my BPM charts if the heartbeat monitor is able to pick those up.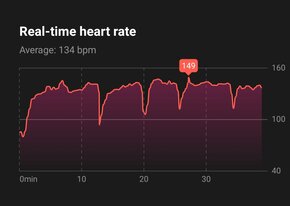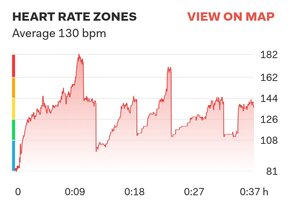 left: data from OnePlus Watch, right: data from chest strap monitor
The first run didn't reveal anything weird at all, but the second run was interesting. When comparing the data from the OnePlus Watch app to the data gathered by my chest strap monitor, we can see how OnePlus Watch didn't react to sudden changes in heart rate: it smoothed out the peaks and valleys
(caused by short, very fast runs and also by red traffic lights)
.
Surely, the average BPM is pretty much identical in both charts and thus, is accurate enough to get an idea of how hard/easy the run was overall. But if you're training in a way that you try to keep your BPM within a specific range, OnePlus Watch simply isn't a good enough option for that purpose. Then again, OnePlus never really claimed that they were building a proper sports watch and it is obvious that the OnePlus Watch isn't one either.
The bigger problem though was with the watch's GPS tracking. For my first run, it seems that it took over 10 minutes for GPS to start tracking the route properly. In my map, there's a 1.5 kilometer gap that is simply missing from the very beginning of the run. Interestingly, the totals the app shows are better in line with actual data: according to that, it missed only appx. 500 meters of my normal daily run.
With a GPS problem that significant, it is obvious that you cannot rely purely on OnePlus Watch's data if you have any goals or targets for your running. Even when you don't have any goals, it is very annoying to lose some of the data. After all, you ran in order to get that data!
Co-operation with your phone
Even though OnePlus Watch can be used without a phone, it has been designed to work with one. OnePlus hasn't released a companion app for iPhone, so for the time being, OnePlus Watch is for Android users only. Based on our test Android phones and OnePlus Watch work quite smoothly together.
From your phone, you can select what phone apps can send their notifications to your phone too. I set the Watch to receive notifications for incoming WhatsApp messages and SMS messages. As a handy bonus, you can also quickly reply to your messages with pre-saved quick messages like
"I'll get back to you shortly"
.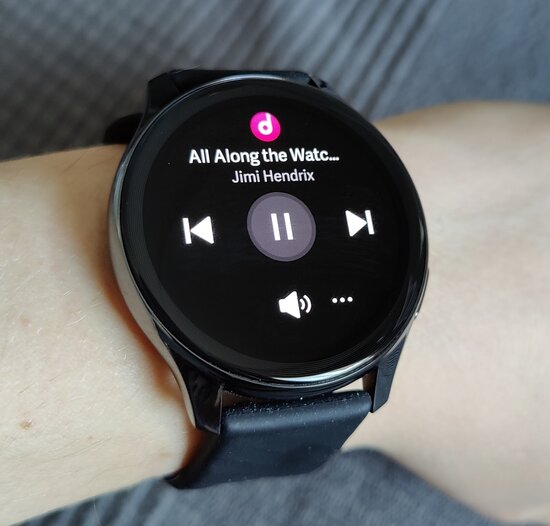 The watch can also control music playback on your phone: you can skip tracks, adjust volume levels, and more. The playback controls aren't app-specific, but instead, they are universal Android playback controls. I used them for both Spotify and an audiobook player and they worked perfectly.
As a handy little feature, there's also a "Find my phone" feature in OnePlus Watch that plays a tone on your phone, even when muted, so you can find it if you're accidentally placed your phone somewhere you can't remember.
Other features
Beyond those features already mentioned, OnePlus Watch is actually pretty plain. It is quite hard to determine whether OnePlus Watch should be categorized as a "real smartwatch" or just a "big sports bracelet". All the basic features you'd expect from a smartwatch are there, yes, but absolutely nothing else.
And as the operating system is new and solely used for this device, there are no third-party apps to install - and there's no word from OnePlus whether there ever will be.
For me, one of the biggest letdowns of the Watch was the fact that you can't use its NFC feature to do contactless payments in stores.
OnePlus Health app
While the watch itself was a pretty solid, but slightly boring package, the companion Android app is something else. The entire app screams "v1.0". Sure, it worked – for the most part – but everything seemed to be slightly unfinished and lacked polishing.
That said, the only really big problem with the app was the fact that it somehow managed to lose its
Google Fit
sync after the first day. On the first day or so, the data was flowing nicely from the OnePlus Health app to Google Fit, as it should. But after that, syncing of the data simply stopped, even though the apps were still linked together.
Also, the exercise diary and how the data was presented was simply sub-par compared to any other "real" sports tracking applications. There were no tools for analysis or to create summaries.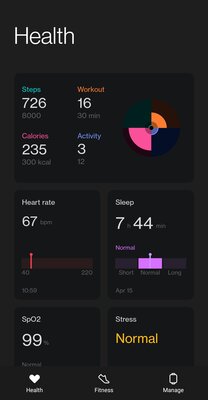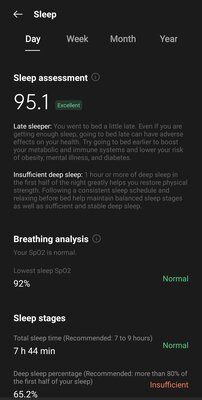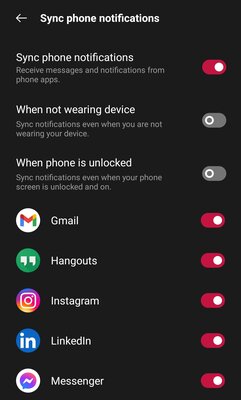 For most parts, the app did its job. It was similar to most other smartwatch manufacturers' apps: nothing fancy, but the main screen did its job by providing core information about your current health, recent sleep, etc.
Summary
OnePlus Watch is an affordable smartwatch with great battery life, but yes, it is slightly boring too.
Its biggest problem is definitely unfinished software, most notably the Android companion app. Also, its GPS issues need to be addressed soon, one way or another, because a sports device with a non-functional GPS is a bit pointless.
Besides the GPS issue, the watch itself didn't have any significant technical problems. It was smooth to use and did its limited set of jobs as expected.
But even when/if OnePlus manages to get the Android app sorted out and fixes the annoying GPS issue, there is still one huge open question out there. Who is this watch for? It is bit "too dumb" to be a real smartwatch. It lacks training programs and other features you'd expect to have in a real sports watch, so it can't be really called that either.
If you're looking for a real smartwatch, buy a proper Wear OS watch instead and if you're a sports fanatic, buy a real sports watch.
I think OnePlus Watch's core target group is the same people who buy sports bracelets: people who want to keep not-so-detailed track of their health on daily basis, but aren't fanatic about it.
And yes, the potential buyer needs to have bigger arms than I do, too.
Stars