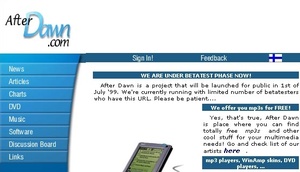 In our article series, we're digging into AfterDawn's news archive and looking what happened exactly 20 years ago. This article series also celebrates AfterDawn's 20th anniversary.

So, we're digging into our news archive and trying to figure out what was hot and what was not, back in October, 1999 when our site was only four months old. I'd like to remind you, our readers, that back then, AfterDawn was strictly focused on digital audio and video technologies and reporting events in those genres. More generic "all about tech" arrived to our site much later.

Our first ever stories about cell phones
As said, our focus back then, was strictly with digital audio and video. But the October, 1999 marks the first time in our history that cell phones were mentioned in our news. Looking at our
(and everybody else's)
news coverage nowadays and it seems that smartphones and related technologies are
the
thing that nowadays makes the headlines. Things have changed, truly.
Well, anyway, back in October, 1999 we published a press release from a Finnish mobile phone manufacturer. No, not
Nokia
. But another one, called
Benefon
. Company had just launched the first-ever GSM phone that had a built-in GPS navigation in it. Pretty revolutionary 20 years ago. It actually took several years until GPS navigation became a commonplace with phones.
Read more...
---