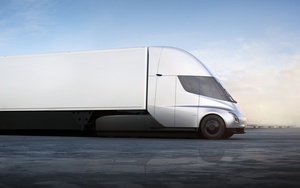 Tesla has today announced two new vehicle prototypes that will bring the total number of Tesla cars, and now trucks, to six. As expected Tesla unveiled their "beastly" semi-truck the first time but not many expected a refresh to its first car, the Roadster.

With the semi-truck Tesla moves to a completely different market. Previously the company has been competing against specific small to mid-sized cars, and before the Model 3 even the production volumes have been rather low. Now the company has a new type of challenge.

According to all the specs and Elon Musk's price calculations everything seems promising, but you have to take into account that the company has never made a product even close to what they are attempting here. However, if everything goes according to the plan the first Tesla semis should hit the roads in 2019.

Now to the specs. According to Elon Musk, the Tesla semi destroys current semi-trucks in speed and acceleration both with cargo and without. Even with full load it gets to 60 mph in just 20 seconds.

Even better, Tesla semi is said to have up to 500 mile range (300 or 500 on the website), and cap top up the batteries with a supercharger in 30 minutes. The range is also calculated at full load and at highway speeds.
Read more...
---