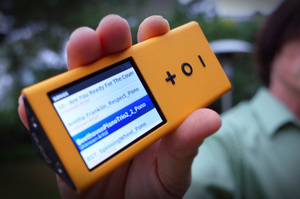 The Kickstarter-funded high-fidelity music player, Pono, has closed its campaign at $6.2 million raised, good for the third best campaign on the crowdfunding site, ever.

Launched by musician Neil Young, the device was offered in 31 different options, including players with artist's signatures laser engraved on the side and pre-loaded with the artist's music.

Still in prototype form, the device is expected to launch in October in its final retail form. "The art of engineering is the art of compromise," Pono said recently. "And when you have a chance to listen to the PonoPlayer, we promise that you will be more than happy with the choices we have made."

Pono Players will cost $399 when they launch at retail in October, but 100 lucky backers got it for $199 and all other Kickstarter backers could purchase it for $299.

What is Pono?


Pono's mission is to provide the best possible listening experience of your favorite music. We want to be very clear that PonoMusic is not a new audio file format or standard. PonoMusic is an end-to-end ecosystem for music lovers to get access to and enjoy their favorite music exactly as the artist created it, at the recording resolution they chose in the studio. We offer PonoMusic customers the highest resolution digital music available. PonoMusic is more than just a high-resolution music store and player; it is a grassroots movement to keep the heart of music beating. PonoMusic aims to preserve the feeling, spirit, and emotion that the artists put in their original studio recordings.
Read more...
---