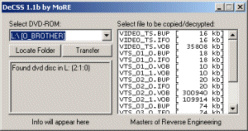 In very, very weird legal issue, the prosecution, representing the people of Norway, has presented amended charges against Jon Johansen in the case that's well-known as the "
DeCSS
case".
According to various Norwegian sources, the changes in the charges mostly add new aspects to the prosecution's case. Most notably, prosecution wanted to add charges that Johansen also cracked code that revealed a repository of protection keys.
At first, Johansen's defence opposed the changes, but because raising a formal objection would mean that the defence would also have to present fresh evidence against the new charges and that would delay the case, the defence counsel dropped the formal objections at this point.
The delays in the case, all of them caused by the prosecution, have pushed the case's closing arguments to be presented on next week's Monday instead of this week's Friday.
Source: Aftenposten