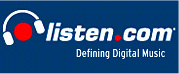 Listen.com
has launched a promotion that allows users of its subscription service,
Rhapsody
, to download and burn audio tracks to CDR legally for $0.49 each, half the normal Listen.com cost.
Only nag with the service is really the fact that users need to be subscribers to the service itself which costs $9.99 a month and allows streaming audio via their service.
Listen.com has the licensing contracts from all five major record labels and was the first company to launch a music subscription service back in December, 2001. The offer is available until 31st of March, 2003.
Source: InternetNews.com