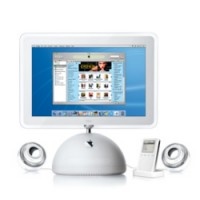 Despite the whopping success of
Apple
's
iTunes
online music store, some popular artists have refused to sell their music in single track format.
Artists claim that the "get only what you want" model undermines their art, in this case, the concept of a full album
(order of the songs and the "full picture" all the tracks on the album together create)
and are also worried about the fact that selling all the material in single track format might have a negative effect on their album sales.
The monetary issue is, IMHO, rather ridiculous for most artists, since
(as far as we've understood)
they get almost the same amount for selling two tracks through iTunes as they would get for selling a one physical copy of their album. Anyway, some artists, such as
Linkin Park
, have pulled their single track selection from iTunes, but continue to offer full album downloads through the service.
Other artists with similiar issues include
Madonna
and
Green Day
among others.
Source: Billboard.com