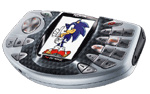 Nokia has started the N-Gage promotional tour today. The first event took place in Helsinki, the capital of Finland. On the tour the N-Gage is demonstrated in action to the media and consumers. Also taking place is a Tony Hawk Pro Skater 4 contest, with a chance to win a trip to the grand final taking place in Paris.
The N-Gage is the first next generation hand held console. In addition to offering a high quality gaming experience, the N-Gage has a fully featured GSM cell phone built-in, Bluetooth wireless connectivity, audio player features, email protocol support for mobile communications and more.
The N-Gage is entering the market with no competition, as its features go far beyond the Nintendo's GBA. Nokia has approximately a year to freely increase its market share, until the Sony Playstation Portable is released -- by the end of 2004. Sony has a whole lot of work to do before the product launch, as the PSP is currently in the planning stage.
As the retail release date is getting close, the N-Gage.com is now accepting pre-orders.
N-Gage.com