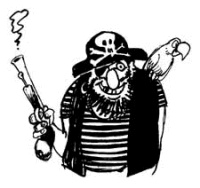 Japanese P2P network,
Winny
, was based on super-secure
Freenet
network and was supposed to hide all marks of its users' IP addresses, making it impossible to crack down. But now it seems that this network has failed its promise as well. According to CNetAsia, two Japanese users of Winny have been arrested and home of the Winny's developer has been searched by Japanese police.
Creator of Freenet, British Ian Clarke, has stated that he doubts whether Winny used all the Freenet's identity-cloaking and cryptographic features, as these features should make the network truly anonymous.
Two arrested men, aged 41 and 19, are being sued by several companies for making available through P2P network various copyrighted items, including Hollywood movies and
Nintendo
's games.
Source: CNETAsia