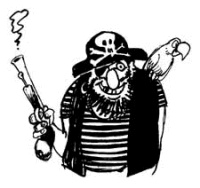 According to
IFPI
's
(The International Federation of the Phonographic Industry, kinda "mother of all world's RIAAs")
chairman, Jay Berman, European P2P users should expect same kind of treatment as their American counterparts have had from
RIAA
during the last year. This means that recording industry associations around the world and specially in Europe, are preparing to sue hundreds, probably thousands of individuals who distribute music illegally through P2P networks.
Just recently,
Nielsen/NetRatings
Internet traffic study found out that there are now more European users in
Kazaa
than American users. Europeans have already had the pole position in most of the other P2P networks, including
eDonkey
and
DirectConnect
. Recording industry considers this
(number of American users in Kazaa dropped to half)
to prove that RIAA's hard tactics in States have been successful.
Mr. Berman wouldn't comment on specific plans, but mentioned the lawsuits as one tool to combat against growing Net music piracy.
More information:

Guardian
IFPI