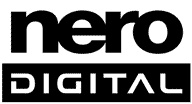 ..there's not much in there. Ahead Software made some sort of site layout, added a little bit of information and an example trailer. Some time ago our sources indicated that Nero Digital would get a support community web site, but so far nothing has happened that support this. For those who do not know what the Nero Digital is:
Nero Digital is the premier
technology for audio and video compression standards available to date.
Compatible with MPEG-4 Video and MPEG-4 High Efficiency AAC, Nero Digital will offer you high quality surround sound and high definition images for your home entertainment theater.
Nerodigital.com