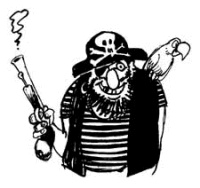 Two major Hollywood studios have filed separate lawsuits against the Hollywood actor, who they claim has leaked so-called screener copies of their movies to Internet.
Warner Bros.
, a subsdiary of
TimeWarner
, sued several people, including the accused source of screener leaks, Hollywood actor
Carmine Caridi
, for leaking its recent movies
"The Last Samurai"
and
"Mystic River"
.
According to Warner's lawsuit, Caridi received the screener copies of the movies from
Academy of Motion Picture Arts and Sciences
, as he is a long-time member of the organization, and then handed them to electrician from Illinois,
Russell Sprague
, who then made digital copies of the movies and placed them available on the Net.
In its separate lawsuit,
Columbia
, a subsdiary of
Sony
, has also sued Caridi for leaking its movies
"Something's Gotta Give"
and
"Big Fish"
to Net.
More information:

Fox21.com
Forbes.com