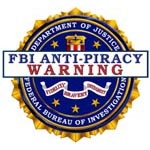 Trade groups representing movie, game and music publishers announced today that all new CDs, DVDs and games sold in the United States will shortly feature an FBI warning label warning about serious consequences that unauthorized copying might cause to the person violating copyright laws.
The label will replace the old variety of labels already shown in most of the media products and will also be significantly more visible on the product cover. The new warning says
"The unauthorized reproduction or distribution of this copyrighted work is illegal. Criminal copyright infringement, including infringement without monetary gain, is investigated by the FBI and is punishable by up to five years in federal prison and a fine of $250,000."
Trade groups behind the initiative were
MPAA
,
RIAA
and
ESA
(Entertainment Software Association that represent video game publishers)
.
Source: Reuters