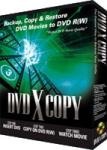 The recent legal struggles at
321 Studios
have resulted into more than just problems for the company -- nearly 300 people have received the pink slip during the past couple of months.
Both the movie industry and copy protection company Macrovision have won injunctions against 321 Studios' DVD backup software, which has pretty much put the sales of the software on halt. The company is still offering software for burning DVD video, creating DVD slideshows, backing up games and more, but they just were not enough to save the jobs.
According to 321 Studios' Director of Public Relations
Julia Bishop-Cross
, the company has shrunk from nearly 400 employees down to about 50.
Robert H. Moore
, founder and President of the company, has not given up on fighting the rulings. According to him the consumer should have the right to fair-use of the product he or she has purchased -- including circumventing possible copy protections in order to make a backup copy. The controversial
DVD X Copy
software has several anti-piracy provisions, which makes it impractical to make movie copies for resale.
Good luck to 321 Studios -- and to the American consumer. You can read more about the
Protect Fair Use
campaign at
ProtectFairUse.org
.
Source: STLtoday