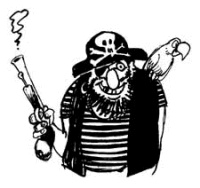 Police in Poland have broken up a piracy ring which consisted of at least 100 hackers. The group has been accused of selling pirates movies and music and has also been accused of hacking academic computer systems all over the world to store the material. Police spokeswoman
Agata Salatka
said,
"They broke into the biggest systems they could find and set up 'warehouses' to store pirated games, films and music. They distributed the goods through the Internet, and also supplied bazaars with the latest hits -- even before their official premieres,".
This is one of Poland's biggest piracy related busts. Salatka also said they had detained the ring leaders but wouldn't give any details on them but did state that evidence was gathered on at least 100 people.
Poland has had much praise from anti-piracy groups worldwide in recent years. The country has tightened its copyright laws and its law enforcement is still challenging the piracy that flourished in the 1990's. Despite this action, pirated movies, music, software and games are still being sold at bazaars in cities around the country.
International police blame eastern European manufacturing centers for contributing a huge part of the estimated $29 billion of pirated material in the year 2003 alone. In this raid, Polish police say that all suspects are over 18 years of age, some still only secondary school students. This is the latest raid in an on going International crack down on piracy.
Source:
Yahoo