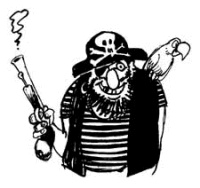 MPA
's
(MPA is the movie studios' international association, in which, the American MPAA is also member of)
Icelandic arm, called
SMAIS
, has raided 12 major P2P users in the small Nordic country. According to SMAIS's press release, some of the raided users had over 2.5 terabytes
(1T == 1,024 gigabytes)
of pirated material in their possession when busted.
Iceland, a country with population of just over 290,000, has the highest percentage of Net-connected households in the world -- 79% of homes are connected to the Internet. But as isolated as the country is, the P2P raids seem to have sent immediate shockwaves across the country: according to SMAIS's announcement, country's total Internet traffic dropped by a whopping 40 percent after the raids.
In its raids, movie industry targeted only users using extremely popular
DC++
/
Direct Connect
file sharing network. Users' computers and various DVD-R/CD-R media were confiscated in the raids.
More information:

The Register
SMAIS