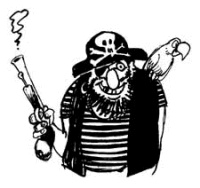 A Georgia man was arrested at
Northwest Arkansas Regional Airport
this week while delivering bootlegged copies of movies to
Fort Smith
. An airport employee found two boxes of DVDs containing titles are currently only in movie theatre's such as
Coach Carter
,
Meet the Fockers
and
The Polar Express
. It also contained other DVDs and a lot of music CDs.
Terrick Haynes
, 24, of Riverdale, Ga cooperated with authorities and claimed that he was delivering the pirated DVDs and CDs to two barbershops in Fort Smith, for a man named
Mohammed
.
He claimed that he did not know the people he was supposed to be delivering to. Airline records showed the boxes had been checked as baggage in Atlanta on Jan. 29 by Haynes, who had been bumped from the flight. Haynes was unable to fly to Northwest Arkansas until Wednesday; and, when he arrived, he was arrested by the airport's police department.
550 DVDs of 44 different titles were seized as well as 121 CDs of 17 different titles. Haynes was booked on felony charges of unauthorized copying or sale of recordings.
Source:
NWAonline