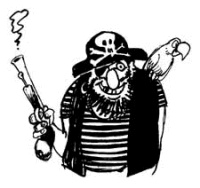 On 26th November 2004 I wrote a news
article about TV series downloading becoming more popular
, and the
MPAA
calling it a serious threat. I then asked if next we will hear complaints about Documentaries appearing on P2P networks. Well this has sort of happened now as the
BBC
have made some comments, and the BBC's excellent documentaries seem to be amongst the most shared educational material online, with the exception maybe of eBooks.
TV Stations and studios fear that the Internet has now become many people's person
PVR
delivering TV shows to them quickly. Production companies are becoming increasingly aware that the Internet is taking their audience. Many
BitTorrent
sites allow users to download and share episodes of TV shows quickly within hours of their broadcast. The BBC it appears, is not very happy about this situation.
"It's a big issue across the industry at the moment. We're not going to ignore it, especially if it's quite widespread,"
said
Debbie Manners
, the head of rights and business affairs at the BBC. When asked if the BBC would go after distributors of it's material, she said,
"I'm not aware that we are. That would depend on the extent of it."
I seem to remember the MPAA saying it had no plans to sue filesharers not so long ago.
Envisional
, a company specialising in Internet monitoring is aware of the extent of such piracy.
"All the major networks are concerned, though some are only starting to realise the effect it could have on their revenues,"
said David Price, an Envisional researcher. To most of the users of this site, the shock is not that this
"TV piracy"
is at such an extent, the shock is that the broadcasters are only actually realising now. The very people calling this a new threat are at least 5 years late, and they are supposed to be the experts.
The problem with TV series is that it's not usually available on DVD before it's broadcasted. In this case, how could somebody get a copy of a new TV show? The production companies should realise the potential of an open market for such sales online, although they would probably settle with over-priced online stores selling
DRM protected
content. I don't know if anyone else noticed, but I'm sure anyone can commit "TV piracy" by simply using a PVR, VCR or DVD recorder?
So as I did at the end of the news article I mentioned, I will now predict what we will hear next as the
"new form of piracy"
. Within the next six months (more than likely sooner) I could almost guarantee that book publishers are going to realise the massive amount of
eBooks
and
Audio books
online and call it a new form of piracy that is now an immediate thread to the Industry, which will be quite false if you consider the years that eBooks have been around and co-existed with Publishing companies.
Source:
The Independent