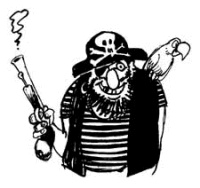 According to a report by
Alex Malik
, a former general counsel for the
Australian Recording Industry Association (ARIA)
, TV networks that are slow to air new episodes of popular TV shows are forcing their viewers to turn to alternative methods like
BitTorrent
sites. Usually when a TV episode is aired in the U.S. for the first time, you could find it quite easy on BT sites and P2P networks within a few hours. Impatient TV viewers prefer to wait a few hours after the show is initially aired to view it rather than waiting a matter of months to see it on their local TV networks.
According to the report, on forums about popular TV shows, one in three conversations touches on where and how to pirate those TV shows.
"It's difficult to put a number on it because not a lot of people talk about (online pirating) especially since it's illegal. It's similar to illegal music file sharing...Not a lot of people admit to it, but there is a substantial amount happening,"
he said. Malik's research showed that Australians have to wait an average of eight months to see first-run episodes of popular programs from overseas.
Some Australian networks also delay the shows until times where overall viewing becomes low.
"These delays provide a window of opportunity for viewers to upload TV programs after their American broadcast date, thereby making them available to viewers outside of the U.S., and viewers within the U.S. who may have missed the program."
Malik said. To download TV shows, all you really need is BitTorrent installed, a decent Internet connection and the address of a good torrent site.
"While there are no accurate Australian BitTorrent usage figures, anecdotal evidence and reports from online forums suggest that Australians are downloading TV programs in large quantities,"
Malik said.
According to a past survey by
Envisional
, Australia is the second largest downloader of pirated TV programs (15.6%) behind the
United Kingdom
(18.5%) and just ahead of the United States (7.3%). The report said that increased bandwidth, technological advances and a high demand of U.S.-based TV shows are some of the reasons for the boom in online piracy. The report also said that around 70% of the piracy occurs through BitTorrent.
Source:
News.com