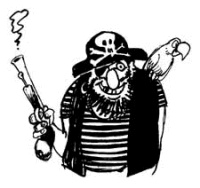 Two more men who were nabbed as part of
Operation Copycat
, which targeted warez group members have pleaded guilty, bringing the total to 10 of 14.
Paul Aleman
, 25, of Menafee, and New Jersey resident
Philip Kang
, 22, entered guilty pleas in a federal courtroom in San Jose today. Operation Copycat was part of a much larger, now infamous International piracy crackdown dubbed
Operation Site Down
that targeted some of the best known warez groups on the Internet.
Federal prosecutors say that warez groups are responsible for most of the pirated material that can be found online. They said when a group makes a
"release"
, it spreads to top-level servers in a matter of minutes, and then continues to filter down through
P2P
networks and
BitTorrent
sites where they will can be downloaded by anyone with a decent Internet connection. To further demonstrate the scale of the worldwide operation, federal prosecutors showed some directory lists they had obtained.
They included more than 750 movies such as Star Wars: Episode III- Revenge of the Sith, Batman Begins and Bewitched which were uploaded by groups within hours of theatrical release. The list also included 1,250 computer games and over 180 major software titles. Operation Site Down had a dramatic effect on the entire worldwide network, but you don't have to look very far to see that the scale of releases is still huge.
Source:
CBS5