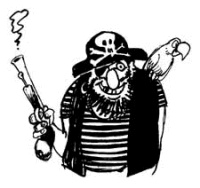 Two men have pleaded guilty to several charges after what was called the largest bust of pirated music and software CDs in America. The individuals,
Ye Teng Wen
, 30, and
Hao He
, 30, both of Union City, California, each pleaded guilty to 5 criminal counts on Monday. They admitted to making at least 200,000 pirated CDs, most of it Latin music, and to other offenses such as trafficking in counterfeit labels. A third man,
Yaobin Zhai
, 33, did not plead guilty and is due to appear in court in May.
The three were indicted in October of copying music CDs and software from popular companies such as
Symantec Corp.
and
Adobe
. Officials had seized nearly half a million pirated CDs and 5,500 stampers used to make the bootleg products. The software discs even came complete with an anti-piracy seal.
"This is the largest case involving CD manufacturing piracy uncovered in the United States to date,"
Kevin Ryan
, U.S. Attorney for Northern California told a news conference.
"The theft associated with this kind of piracy, copyright infringement, is in the hundreds of millions of dollars, I believe, on a yearly basis."
Each of the five counts against the men carry a maximum sentence of five years. The music industry is blaming piracy for a large drop in CD sales over the past seven years. As commercial piracy operations become more hidden as technology advances, the
Recording Industry Association of America (RIAA)
has stepped up efforts against this form of piracy.
Source:
Reuters