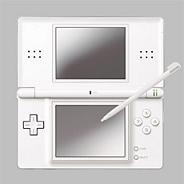 The long anticipated
Nintendo
's improved version of the popular portable gaming device has been announced to hit US in June 11.
DS Lite
was released in its home country, Japan, in March and was sold out immediately. DS Lite is a lighter version of the original Nintendo
DS
which has sold millions of units.
The delay in shipping was because of huge demand of units in Japan, but Nintendo was finally able to increase the production. The DS Lite will make its debut in US as "polar white", while the two shades of blue are not yet promised to hit the shelves, however as in Japan, they could come week later. The Lite version will have a price tag of $129.99, the same amount as the original DS.
There aren't any major releases targeted at the debut week, at least not yet. Many thought that a simultaneous launch with new Super Mario Bros. would give both the game and the DS Lite a boost, but while the game is released in May 15, the handheld is waiting in line. However DS Lite isn't all alone, games, including THQ's Cars and Nintendo's Big Brain Academy will be released the week earlier.
DS Lite release dates outside US haven't yet been confirmed.
Source:
GameSpot
For more gaming news please visit Blasteroids.com.