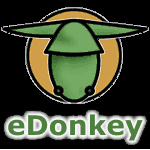 MetaMachine Inc
, the company that owns the
eDonkey2000
software is to pay $30 million to settle a copyright infringement case brought against it by 6 record companies. The eDonkey2000 network accounted for almost a third of all Internet traffic last year. The advertising revenue and software sales were over $2 million a year. Recently
Kazaa
owner
Sharman Networks
also agreed to pay $100 million and provide a
"legit"
service.
The eDonkey2000 website has been taken down and a message has been left that says...
The eDonkey2000 Network is no longer available.

If you steal music or movies, you are breaking the law.

Courts around the world -- including the United States Supreme Court --
have ruled that businesses and individuals can be prosecuted for illegal
downloading.

You are not anonymous when you illegally download copyrighted material.

Your IP address is XXX.XXX.XXX.XXX and has been logged.

Respect the music, download legally.
The IP address logging is only a scare tactic, it is not at all illegal to attempt to visit the eDonkey website. MetaMachine has also agreed not to distribute its software anymore.
"With this new settlement, another domino falls, and we have further strengthened the footing of the legal marketplace,"
Mitch Bainwol
, chairman and chief executive of the
Recording Industry Association of America (RIAA)
.
Of course, you can still use the open source
eMule
software to download and share files.
Source:
Arstechnica