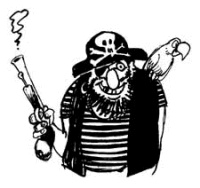 With the assistance of the
Recording Industry Association of America (RIAA)
alongside the
Motion Picture Association of America (MPAA)
, Police in the U.S. seized around 40,000 bootlegged discs plus scores of CD and DVD burners on Thursday, in what has been described as
"a significant blow to the nation's piracy market,"
by industry leaders.
One person was arrested after the massive haul was discovered at a garage, said to be
"among the largest CD burning labs and movie pirating labs in the country,"
and also an office. The suspect,
Abdouraitamance Diallo
, looks set to face a charge of trademark counterfeiting, according to Police.
The Police raid initially uncovered 23 duplicator towers, (similar to computer hard drive towers), which contained more than 200 burners. Then, a second search was carried out at an office where the 40,000 discs were found.
The alleged bootlegging gang essentially acted as a wholesaler according to the RIAA, which was capable of producing over 6,000 CDs per hour. The discs would then be sold off to people who would subsequently peddle them in flea markets.
Movies not yet officially released on DVD were among those being illegally reproduced, including
"Snakes on a Plane"
and
"World Trade Center."
"The more we can minimize the availability of pirate product, the more we help protect artists, record labels and everyone else involved in making music and ensure a positive, high-quality experience for fans,"
said
Brad Buckles
, executive vice president overseeing RIAA anti-piracy efforts.
The director of U.S. anti-piracy operations for the MPAA,
Mike Robinson
, believes pirating operations thrive because consumers are willing to purchase their products.
"For us to eliminate this activity we really need to convince the public and cause them to think about what they're doing when they make those purchases,"
he said.
Source:
NewsMax