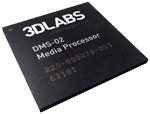 As insane as the idea might be,
3DLabs
has announced the world's first media processor for phones and PDAs that is capable of
720p
resolution
AVC
/
H.264
video playback.
The chip is 3DLabs' first product after it announced to split off from
Creative
who has owned the company for the last four years. Chip is called
DMS-02
and it is a multi-core, ARM-based array of floating point processors.
Company's obvious target market is the expanding portable video player market and the chip is obviously capable of decoding also "standard" resolution videos. For those not familiar with the
HDTV
acronyms. 720p stands for
progressive
1280x720 resolution which means that the video has three times more
pixels
(or "details")
than a regular TV or
DVD
clip.
Source: TechReport