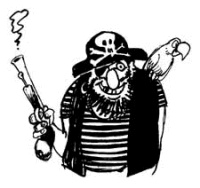 Los Angeles man,
Johnny Ray Gasca
, was sentenced to seven years in federal prison for using a video camcorder in a movie theatre.
Gasca was arrested in September, 2002 when he was found carrying an expensive recording equipment in a large leather bag during the private screening of
"The Core"
. After the arrest, he fled the custody for 15 months.
U.S. District Judge Dean Pregerson found Gasca guilty of three misdemeanor counts of copyright infrinhement.
Source: Reuters