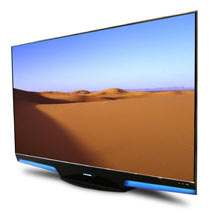 Today, Plasma and LCD are the two main technologies in HDTVs but reports indicate that by this time next year, Laser TV will emerge and bring the best picture quality yet.
Novalux Inc., one of the main developers of the new technology has promised that the technology has great benefits over current technology including half the production cost, double the color range, and three-quarters less power consumption.
Laser TV technology is suited for projection (both front and rear), and will most likely replace the UHP lamp currently used in today's projection TVs.
At this year's
CES
,
Sony
displayed a Novalux-powered laser TV at its booth although the company has yet to formally announce a laser-based product.
Greg Niven, the vice president of marketing at Novalux had this to say about the event:
"At CES we had a laser TV beside a plasma TV, an LCD TV and a traditional UHP lamp TV, so that's four TVs lined up running our own produced high definition content, and I mean, it was a no brainer. The laser TV had a way, way better picture than any of the other conventional technologies."
Novalux is currently in discussions with a few OEMs in an effort to bring the technology into living rooms within a year's time.
"We now have over four design wins in laser TVs for four different brands that are scheduled for launch in 2008,"
said Niven.
Source:
Dailytech