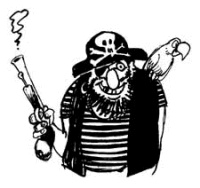 According to the
MPAA
and
IFPI
, a police raid was conducted today in Sao Paulo, Brazil on 4 seperate locations that were used to manufacture pirated CDs and DVDs. In all, 30,000 pirated CDs and DVDs were confiscated alongside over 200 burners.
The raids were a result of an investigation into piracy rings in Sao Paulo and more arrests are expected in the coming days.
Pirated DVDs and CDs are very commonplace in third world and developing countries but many American movie studios have yet to set a long term strategy to fight it.
So far, only two studios, Warner and Fox have ever done anything to combat piracy and that is to sell retail DVDs for unbelievably cheap prices. Both companies sell their DVDs on the streets of Russia and China for under $3 USD.
Source:
Arstechnica