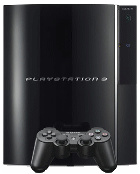 In figures released yesterday by
Sony
, it is revealed that during the first ten days of sales in Australia, over 27,000 consoles were sold.
Playstation 3
games also dominated the charts, where 9 out of the top 10 titles were PS3 games. The only non-PS3 game? Final Fantasy XII for the PlayStation 2.
The launch of the PS3 helped cause a significant spike in video game sales for the entire Australian market.
"Our data revealed that in a matter of just ten days the PlayStation 3 created a spike in retail spending not previously witnessed at the launch of any other console in Australia,"
commented GfK's (a data tracker) Daniel Morse.

"This spending continued into the second week of trading, resulting in sales of 27,083 PlayStation 3 consoles in just ten days."
Sony Australia managing director Michael Ephraim added,
"Following a great launch for the PS3 across the country, it's very satisfying for us to see that our close planning with retail and channel partners has ensured that all consumers wanting to get their hands on a PS3."
The PlayStation 2 continued to sell well also, with almost 8000 PlayStation 2 consoles sold in the 8-day period of March 19th to the 26th.
Source:
Gamesindustry.biz