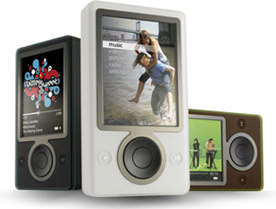 While the
iPod
continues to be the market leader for portable mp3 players, recently selling its 100 millionth unit,
Microsoft
has been working on the 2.0 version of their
Zune
player and hopes to have its one millionth sold by June of this year.
Currently, the 2.0 is a little way aways from becoming a reality but Microsoft has revealed that they will be selling the first generation Zune in two new colors, "Watermelon Red" and "Baby Pink".
However, perhaps unknowingly, a Microsoft Zune engineer has revealed more than a few details for the new Zune 2.0.
The design of the new Zune will be identical except it will be thinner and include a larger HDD.
According to the engineer there will also be a new "Flash Zune" that will specifically compete with the iPod Nano and Shuffle.
According to the Microsoft employee, "the Flash Zune measures 3" x 1.25" x 0.25" vs. 4.4" x 2.4" x .58" for the original Zune and 3.5" x 1.6" x .25" for the 2G iPod Nano."
The flash Zune will have the same abilities as the current 2GB iPod Nanos and will include built in WiFi.
Microsoft plans to manufacture over 1.5 million of the new flash Zunes throughout the calender year of 2007.
Source:
Dailytech