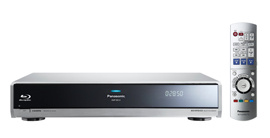 On Tuesday,
Panasonic
issued a firmware update, to v2.0, for its
DMP-BD10 Blu-ray player
which adds support for Dolby True HD and DTS-HD High-Resolution audio formats.
According to Panasonic, the update adds the following fixes and enhancements:
-Dolby TrueHD and DTS-HD High Resolution Audio are supported. A new decoder is incorporated to support the latest high quality multi-channel surround sound formats.
-Functions of EZ Sync(North America) or VIErA Link(Europe/UK, Oceania) are enhanced.
-You can now seamlessly operate multiple connected components with one remote control.
-Improved playability and stability
Its good to see that firmware upgrades are coming out for next gen players, and we hope to see more upgrades in the near future.
Source:
HD-Digest