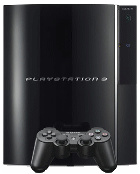 With
Sony's
latest system update, released today,
PlayStation 3
gamers will soon be able to download and play
PSone
titles on their new console.
The firmware update, to version 1.7, introduces new technology that which will enable the console to play PSone titles bought from the PlayStation Store. These titles were only currently playable on the
PSP
but that is set to change. Also included in the update is the ability for save data for the PSone to be used on the PSP, and improved support for vibration functions on older console peripherals, including the Logitech GT-Force Pro steering wheel.
The update is for all owners, including those in Europe which had not had the option to download any PSone titles until today.
Sony also released a firmware update for the PSP, version 3.40. A new security system will force PSP owners to upgrade to the new firmware update if they want to continue playing emulated PSone games on their handheld.
Source:
Gamesindustry.biz