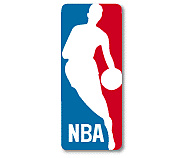 If you have missed any of the recent NBA playoff games, the
NBA Download Store
is now fully open for business and has begun offering single game downloads for $3 USD and individual series for $13 USD.
Although the games have
DRM
that prevents it from being burnt to DVD, you can put the games in up to 3 portable media devices or seperate computers.
The games are only available to US and Canadian consumers and you must have
Windows XP
or higher.
According to Steve Grimes, who, as the league's vice president of interactive services, oversees NBA.com, early sales have been "promising."


"It's not a big surprise: great games and surprising results have driven the most popular downloads,"
Mr. Grimes said.
The recent Golden State Warriors and Dallas Mavericks series, for instance, has been selling very well just like last year's Finals between the Miami Heat and the Mavericks.
The downloads also include some very appealing features such as commercial and timeout-free coverage meaning action from whistle to whistle.
Another feature to be added soon will allow users to search the content using event tags such as shots scored, assists, and rebounds of each player and then quickly be able to find and view that segment of video footage.
I feel features like those will make the cheap price tag even more attractive and a good idea by the NBA.
Source:
NBA.com