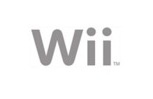 Nintendo
made an announcement today that by 2012 they expected to sell as many as 35 million
Wii
consoles in the US alone. That figure would put place the console near the record 38.2 million US
PlayStation 2s
sold to date.
So far, 2.5 million units have been sold, higher than the
Playstation 3
but still lower than the
Xbox 360
which was released in 2005.
Nintendo also told
Bloomberg News
that they had no plans for price cuts, as a price cut would cause supply shortages.
The company also stated they feel the market favors the simplicity of the Wii over rival consoles.


"We're starting to see in the performance of the PS3 and Xbox 360 that that's not necessarily motivating the market the way it used to,"
Nintendo of America marketing head George Harrison told Bloomberg.
"So we're going to start work on future technology only when we believe it's necessary."
Nintendo concluded by noting that 14 new games will be released in the 3rd quarter 2007, most of which will take advantage of the Wii's motion-sensing capabilities.
Source:
BetaNews