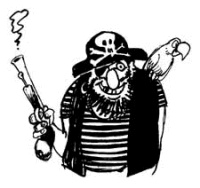 Last year, the former NFL-player
OJ Simpson
announced that he was set to release a book in which he would detail what really would have happened had he actually committed the murders of his ex-wife and her friend. After weeks of consumer outrage, the book was canned and 400,000 copies were destroyed. This week however, a digital version of the book, "If I Did It", has been leaked to torrent trackers worldwide.
The book begins,
"I'm going to tell you a story you've never heard before, because no one knows this story the way I know it. It takes place on the night June 12, 1994, and it concerns the murder of my ex-wife, Nicole Brown Simpson, and her young friend, Ronald Goldman. I want you to forget everything you think you know about that night because I know the facts better than anyone. I know the players. I've seen the evidence. I've heard the theories. And, of course, I've read all the stories: That I did it. That I did it but I don't know I did it. That I can no longer tell fact from fiction. That I wake up in the middle of the night, consumed by guilt, screaming."
In 2006, the publisher
Judith Regan
called the book a confession.
"This is an historic case, and I consider this his confession."
When the manufactured copies were destroyed, one one copy was left untouched and it is reportedly under lock and key. However, a copy surfaced on
eBay
this year and sold for a hefty $65,000.
The new, leaked digital version is 118 pages and in PDF form and can be found on
ThePirateBay
and
MiniNova
among many sites.
Source:
TorrentFreak