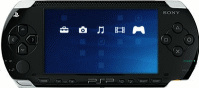 Although movie studio support seems to be waning,
Sony's
senior marketing manager for
PSP
John Koller has said that the company has no plans to kill off
UMD
and will remain committed to the format.
"We'll never walk away from our base. Whether it's movies or game content, third parties have an incredible opportunity to utilize it,"
he added.

"UMD possesses many strengths, from size to form factor to portability. Duplication of UMDs is much easier, cheaper than cartridges. We've really optimized time and cost by going with a disc-based format,"
Koller noted.
Koller made his comments after news spread that the latest PSP firmware update includes an ISO loader, allowing gamers to play games that have been stored on their Memory Sticks. Many saw the move as a way for Sony to move away from UMD and towards downloadable content.
UMD does have its downside however, Koller admitted.
"There's no question the biggest weakness is related to porting games from other platforms. Publishers are concerned about the size of UMD because they can't cram a DVD game on to it,"
he said.
Legendary Castlevania creator Koji Igarashi added that there were more disadvantages to the format.
"The slowness of the seeking speed of UMD is a weakness,"
he stated,
"loading speed becomes a big problem for UMD".
Koller did not mention that disadvantage but made another declaration for UMD.
"UMD is a unique medium to create games, and developers need to understand that when tackling the system."

"The future of UMD is bright,"
he concluded.
Source:
GI.biz