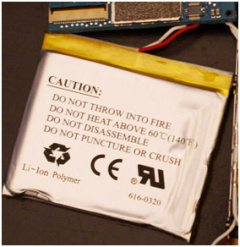 A consumer advocacy group has expressed outrage over Apple Inc.'s battery replacement program for the iPhone.
On the day of the phone's release, the Foundation for Consumer and Taxpayer Rights fired off a letter to Apple and AT&T Inc., the
Cell
phone's exclusive carrier, complaining that customers were being left in the dark about the procedure and cost of replacing the gadget's battery.
The iPhone's battery is apparently soldered on inside the device and cannot be swapped out by the owner like most other cell phones.
Apple spokeswoman Jennifer Hakes said Thursday the company posted the battery replacement details on its Web site last Friday after the product went on sale.
Users would have to submit their iPhone to Apple for battery service. The service will cost users $79, plus $6.95 for shipping, and will take three business days.
The procedure is similar to the one it has for the company's best-selling iPod players, but because some users will not want to live without their cell phones, Apple is also offering a loaner iPhone for $29 while the gadget is under repair.
The service is also similar to the iPod in that all data is cleared from the iPhone during the replacement process, so you have to make sure that you back up all data on the device before sending it in. Apple says the iPhone battery is good for between 300 to 400 charges before performance will start to decline, which generally is the case for any lithium-ion battery over time.
Harvey Rosenfield, founder of the Santa Monica, Calif.-based consumer watchdog group that wrote the letter last week, contends the iPhone's battery and repair costs should have been clearly disclosed earlier.
The company outlined its cellular service rates and many other features of the iPhone in advance of its launch, which drew snaking lines around stores across the country.
"Some of them might be waking up now," Rosenfield said, "wondering who they got in bed with."
Apple did not have an immediate comment on the consumer group's concerns.
Sources:
Fox News
CNet News
Apple