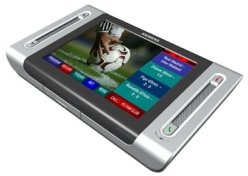 In an attempt to ensure member countries don't fall behind the rest of the world, the European Union officially backing the
DVB-H
standard for mobile TV services. Such services are designed to broadcast directly to handheld devices.
Telecoms commissioner Viviane Reding said "We can either take the lead globally - as we did for mobile telephony based on the GSM standard developed by the European industry - or allow other regions to take the lion's share of the promised mobile TV market."
Reding warned at the beginning of the year that Europe risked losing a chance to be a global player in the burgeoning mobile TV market.
The use of the DVB-H standard will be "legally encouraged" among all 27 member states with the view to mandating use, if necessary, next year, said Ms Reding. identified 2008, with important sporting events such as the European Football Championship and the summer Olympics, as a crucial year for mobile TV.
Unfortunately for mobile viewers in the UK this could cause some problems; at least until the year 2012. That's when the portion of the UHF spectrum required for implementing the EU's DVB-H specifications will be completely available, although a spokeswoman for UK regulatory agency Ofcom says that a portion of the required frequencies will be available in 2008 or early 2009.
Source:
BBC News